What is April Lace Wigs Affiliate program.
We are offering you a chance to form long-term business partnerships with AprilLaceWigs, an opportunity that you should not overlook! The business world is ruthless and the competition is fierce, teamwork is essential when it comes to success. Take the initiative today and join our affiliate program to start generating extra revenue, for

zero costs at all

! There is no catch, no up-front payment; you don't have to spend a dime! It truly is easy to make a name for yourself,

why not earn extra cash while doing it

? Experience what it's like to run your own business, join our affiliate program today.
Commission
5% base commission, this means if someone click your unique URL link, and they place one valid order,the order cost $100 totally, then you can get $5 ( don't underestimate the 5%, our 90% order cost more than $300...., the customer buy more, you earn more..~. our one Affiliate cusotmer earned $5000 + per month... )
Sponsorship on two levels is possible, and a bonus awarded for all purchases of referrals, not just the first one .
( the two levels means, if you invite one customer ( we call customer A), Customer A purchse one wig from us, you can get 5% commission from Customer A, the Cusotmer A invite Customer B, Customer A can receive 5% form Customer B, And You can receive 2% from Customer B also!!!!!!)....., is it hard to understand ~:) ~~~~... OK, in short, you do nothing , just collect Money ~~~ :)
( copy paste your Unique URL on your Facebook, Youtube, Twitter..... )
you can receive lifetime payment from any purchase of customers, whom you invited to the shop
---
How it works?
1. register on our website. if you are our registered customer, just login, then you can find it.
2. Copy and post " YOUR AFFILIATE LINKS" to your Fackbook, Twitter, Youtube.......
3. you will receive one Email once you earned money ~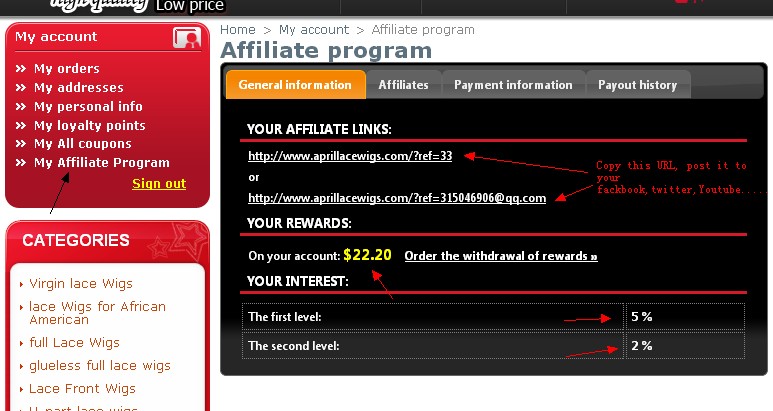 You can see the detail that you earned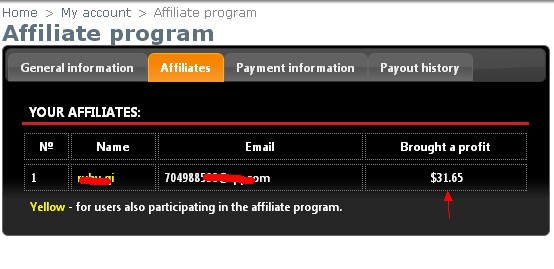 Give us your paypal account: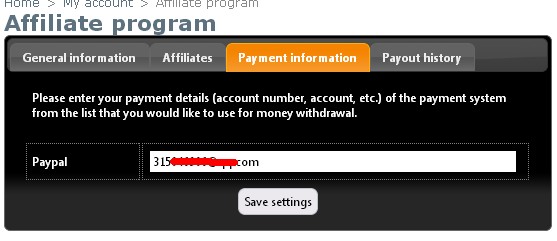 You can receive one email form us, Say you got money~~~